Bed and Breakfast - Hotel De Karsteboom
Guest house
Bed and Breakfast
Max. 20 guests
8 bedrooms
Address: Nieuweweg76
Facilities
Baby Cot
Bicycles storage
CD Player
Central heating
Children's Chair
Clothes dryer
Dishwasher
Freezer
Microwave
Parking provided
Phone
Radio
Refrigerator
Safe
Separate toilet
Shower
Television
Terrace with garden furniture
Washing Machine
WiFi
Information neighborhood
Bar
Bicycles rental
Covered swimming pool
Entertainment opportunities
Fishing features
Forest
Golf course
Internet opportunities
Manege
Open-air swimming pool
Playing facilities
Restaurant
Rural Area
Safes
Sauna
Situated in the village
Solarium
Sports facilities
Supermarket near
Tennis Courts
price per day from
to
€ 70.00
€ 100.00
Availability & Prices
Select the start date and end date in the calendar
Free
On request
Occupied
Changeover
September 2019
| mo | tu | we | th | fr | sa | su |
| --- | --- | --- | --- | --- | --- | --- |
| | | | | | | 1 |
| 2 | 3 | 4 | 5 | 6 | 7 | 8 |
| 9 | 10 | 11 | 12 | 13 | 14 | 15 |
| 16 | 17 | 18 | 19 | 20 | 21 | 22 |
| 23 | 24 | 25 | 26 | 27 | 28 | 29 |
| 30 | | | | | | |
October 2019
mo
tu
we
th
fr
sa
su
1
2
3
4
5
6
7
8
9
10
11
12
13
14
15
16
17
18
19
20
21
22
23
24
25
26
27
28
29
30
31
November 2019
mo
tu
we
th
fr
sa
su
1
2
3
4
5
6
7
8
9
10
11
12
13
14
15
16
17
18
19
20
21
22
23
24
25
26
27
28
29
30
December 2019
| mo | tu | we | th | fr | sa | su |
| --- | --- | --- | --- | --- | --- | --- |
| | | | | | | 1 |
| 2 | 3 | 4 | 5 | 6 | 7 | 8 |
| 9 | 10 | 11 | 12 | 13 | 14 | 15 |
| 16 | 17 | 18 | 19 | 20 | 21 | 22 |
| 23 | 24 | 25 | 26 | 27 | 28 | 29 |
| 30 | 31 | | | | | |
January 2020
mo
tu
we
th
fr
sa
su
1
2
3
4
5
6
7
8
9
10
11
12
13
14
15
16
17
18
19
20
21
22
23
24
25
26
27
28
29
30
31
February 2020
mo
tu
we
th
fr
sa
su
1
2
3
4
5
6
7
8
9
10
11
12
13
14
15
16
17
18
19
20
21
22
23
24
25
26
27
28
29
March 2020
| mo | tu | we | th | fr | sa | su |
| --- | --- | --- | --- | --- | --- | --- |
| | | | | | | 1 |
| 2 | 3 | 4 | 5 | 6 | 7 | 8 |
| 9 | 10 | 11 | 12 | 13 | 14 | 15 |
| 16 | 17 | 18 | 19 | 20 | 21 | 22 |
| 23 | 24 | 25 | 26 | 27 | 28 | 29 |
| 30 | 31 | | | | | |
April 2020
mo
tu
we
th
fr
sa
su
1
2
3
4
5
6
7
8
9
10
11
12
13
14
15
16
17
18
19
20
21
22
23
24
25
26
27
28
29
30
May 2020
mo
tu
we
th
fr
sa
su
1
2
3
4
5
6
7
8
9
10
11
12
13
14
15
16
17
18
19
20
21
22
23
24
25
26
27
28
29
30
31
June 2020
mo
tu
we
th
fr
sa
su
1
2
3
4
5
6
7
8
9
10
11
12
13
14
15
16
17
18
19
20
21
22
23
24
25
26
27
28
29
30
July 2020
mo
tu
we
th
fr
sa
su
1
2
3
4
5
6
7
8
9
10
11
12
13
14
15
16
17
18
19
20
21
22
23
24
25
26
27
28
29
30
31
August 2020
| mo | tu | we | th | fr | sa | su |
| --- | --- | --- | --- | --- | --- | --- |
| | | | | | 1 | 2 |
| 3 | 4 | 5 | 6 | 7 | 8 | 9 |
| 10 | 11 | 12 | 13 | 14 | 15 | 16 |
| 17 | 18 | 19 | 20 | 21 | 22 | 23 |
| 24 | 25 | 26 | 27 | 28 | 29 | 30 |
| 31 | | | | | | |
September 2020
mo
tu
we
th
fr
sa
su
1
2
3
4
5
6
7
8
9
10
11
12
13
14
15
16
17
18
19
20
21
22
23
24
25
26
27
28
29
30
October 2020
mo
tu
we
th
fr
sa
su
1
2
3
4
5
6
7
8
9
10
11
12
13
14
15
16
17
18
19
20
21
22
23
24
25
26
27
28
29
30
31
Previous
Next
Owner
Bianca Wiebenga
Member since 10 March 2011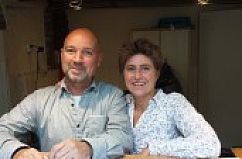 WELKOM IN HOTEL DE KARSTEBOOM***
Op 25 april 2016 zijn wij (Martin en Bianca) de trotse eigenaren geworden van Hotel De Karsteboom. Het hotel is een klein, eenvoudige hotel (Bed & Breakfast) met acht kamers, allen voorzien van een eigen badkamer met douche/toilet, TV, haardroger, gratis WiFi en koffie & thee faciliteiten. De sfeer in het hotel is informeel en gastvrij. Onze gasten bestaan uit wandelaars, fietsers, cultuur liefhebbers, rustzoekers en zakenmensen. s 'Morgen wordt u verwend met een uitgebreid ontbijt. De accommodatie heeft een terras en een tuin waar u heerlijk van het uitzicht kunt genieten. Wij serveren u ook graag een drankje in onze gezellige lounge. Voor lunch, diner en andere activiteiten verwijzen wij u graag naar de vele terrasjes en restaurants die Valkenburg en haar omgeving rijk is. Heeft u andere wensen, dan zijn deze bespreekbaar.

Het hotel ligt ongeveer 8 minuten lopen vanaf het gezellig centrum van Valkenburg a/d Geul. Vanuit ons hotel kunt u talloze wandel- en/of fietsroutes volgen. Parkeren tegenover ons hotel is gratis.

Wij zien er naar uit om u als gast in ons Hotel de Karsteboom te mogen ontvangen. Boek nu uw verblijf bij ons op dekarsteboom(punt)nl.


---
Speaks:




Quotation / Reservation
1. Select the start date of your holiday on the calendar.
2. Select the ending date of your holiday on the calendar.
3. Ask your question.