Bed and Breakfast - B&B De Borage Texel
Onze B&B heeft een landelijke sfeer en is gelegen naast het natuurgebied Utopia 500 meter van de Waddenzee.
De 2 slaapkamers zijn op de eerste verdieping en zijn ingericht met 2x 1 persoons elektrische boxspring bedden ( 90 x 210 cm) en een zitje met grote smart tv. Elke slaapkamer heeft het gebruik van een eigen badkamer ( grenst niet direct aan de slaapkamer)
1 badkamer heeft een een inloopdouche met regendouche , Sunshower infrarood, dubbele wastafel, toilet en föhn. En een badkamer met ruime inloopdouche met regendouche, groot whirlpool met jetstreams, dubbele wastafel, föhn en toilet.
Shampoo, douchegel, zeep en badjassen zijn aanwezig.

Op de overloop staat een koelkast met vriesvakje, Senseo, waterkoker, koffie, thee en lekkers.

De kamers worden zonder ontbijt aangeboden. Ontbijt is apart bij te boeken € 14,95 p.p.p.n.
De prijs is exclusief toeristenbelasting.
Wanneer u een heerlijk uitgebreid ontbijt met diverse streek en eigengemaakte producten bijboekt, wordt dit in de Orangerie geserveerd.

Rookvrije accommodatie.
Huisdieren zijn niet toegestaan.

In het seizoen ( maart - oktober) en de weekenden geldt minimaal 2 nachten boeken !!
Buiten dit seizoen is het mogelijk voor 1 nacht te reserveren maar rekenen wij een toeslag per kamer.

Onze B&B is niet geschikt voor kleine kinderen.( geen traphekje en geen hek om het zwembad)
Wij hebben naast onze pony, geitjes, varkens en kippen ook 2 honden en poezen.

Voldoende parkeergelegenheid bij de B&B en gratis WiFi
Guest house
Bed and Breakfast
Max. 4 guests
2 bedrooms
Address: Stuifweg 20
Facilities
Bad

Bicycles storage

Central heating

Freezer

Open fireplace

Parking provided

Refrigerator

Sauna and/or Whirlpool

Shower

Solarium

Swimming Pool

Television

Terrace with garden furniture

WiFi
Information neighborhood
Bicycles rental
Golf course
Restaurant
Rural Area
price per day from
to
€ 99.00
€ 140.00
Availability & Prices
Free
On request
Occupied
Changeover
August 2022
mo
tu
we
th
fr
sa
su
1
2
3
4
5
6
7
8
9
10
11
12
13
14
15
16
17
18
19
20
21
22
23
24
25
26
27
28
29
30
31
September 2022
mo
tu
we
th
fr
sa
su
1
2
3
4
5
6
7
8
9
10
11
12
13
14
15
16
17
18
19
20
21
22
23
24
25
26
27
28
29
30
October 2022
| mo | tu | we | th | fr | sa | su |
| --- | --- | --- | --- | --- | --- | --- |
| | | | | | 1 | 2 |
| 3 | 4 | 5 | 6 | 7 | 8 | 9 |
| 10 | 11 | 12 | 13 | 14 | 15 | 16 |
| 17 | 18 | 19 | 20 | 21 | 22 | 23 |
| 24 | 25 | 26 | 27 | 28 | 29 | 30 |
| 31 | | | | | | |
November 2022
mo
tu
we
th
fr
sa
su
1
2
3
4
5
6
7
8
9
10
11
12
13
14
15
16
17
18
19
20
21
22
23
24
25
26
27
28
29
30
December 2022
mo
tu
we
th
fr
sa
su
1
2
3
4
5
6
7
8
9
10
11
12
13
14
15
16
17
18
19
20
21
22
23
24
25
26
27
28
29
30
31
January 2023
| mo | tu | we | th | fr | sa | su |
| --- | --- | --- | --- | --- | --- | --- |
| | | | | | | 1 |
| 2 | 3 | 4 | 5 | 6 | 7 | 8 |
| 9 | 10 | 11 | 12 | 13 | 14 | 15 |
| 16 | 17 | 18 | 19 | 20 | 21 | 22 |
| 23 | 24 | 25 | 26 | 27 | 28 | 29 |
| 30 | 31 | | | | | |
February 2023
mo
tu
we
th
fr
sa
su
1
2
3
4
5
6
7
8
9
10
11
12
13
14
15
16
17
18
19
20
21
22
23
24
25
26
27
28
March 2023
mo
tu
we
th
fr
sa
su
1
2
3
4
5
6
7
8
9
10
11
12
13
14
15
16
17
18
19
20
21
22
23
24
25
26
27
28
29
30
31
April 2023
mo
tu
we
th
fr
sa
su
1
2
3
4
5
6
7
8
9
10
11
12
13
14
15
16
17
18
19
20
21
22
23
24
25
26
27
28
29
30
May 2023
mo
tu
we
th
fr
sa
su
1
2
3
4
5
6
7
8
9
10
11
12
13
14
15
16
17
18
19
20
21
22
23
24
25
26
27
28
29
30
31
June 2023
mo
tu
we
th
fr
sa
su
1
2
3
4
5
6
7
8
9
10
11
12
13
14
15
16
17
18
19
20
21
22
23
24
25
26
27
28
29
30
July 2023
| mo | tu | we | th | fr | sa | su |
| --- | --- | --- | --- | --- | --- | --- |
| | | | | | 1 | 2 |
| 3 | 4 | 5 | 6 | 7 | 8 | 9 |
| 10 | 11 | 12 | 13 | 14 | 15 | 16 |
| 17 | 18 | 19 | 20 | 21 | 22 | 23 |
| 24 | 25 | 26 | 27 | 28 | 29 | 30 |
| 31 | | | | | | |
August 2023
mo
tu
we
th
fr
sa
su
1
2
3
4
5
6
7
8
9
10
11
12
13
14
15
16
17
18
19
20
21
22
23
24
25
26
27
28
29
30
31
September 2023
mo
tu
we
th
fr
sa
su
1
2
3
4
5
6
7
8
9
10
11
12
13
14
15
16
17
18
19
20
21
22
23
24
25
26
27
28
29
30
Previous
Next
Rental rates
Our guestbook
Leave a review in our guestbook!
Go to step 2Post review
Is this not quite what you were looking for? Other visitors that were interested in B&B De Borage Texel also viewed:
Owner
Ingrid Besselink
Member since 23 June 2020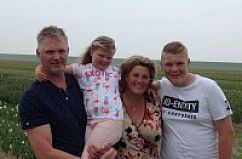 Wij zijn Joost en Ingrid en onze kinderen Luc en Julia.
Begin 2020 zijn we in onze woonboerderij "B&B De Borage Texel"gestart.
Onze B&B heeft een prachtig weids uitzicht over het naastgelegen natuurgebied Utopia en het boerenland waar ook onze boerderijdieren lopen.
De Waddenzee ligt op loopafstand (300 m) waar u een mooie wandeling kan maken langs het natuurgebied Utopia en de Schorren.
---
Quotation / Reservation
From€ 99.00per week